A grand conference on high-quality development was held in China's Guangdong province on January 28, the first working day after the Chinese New Year holiday. The event unprecedentedly invited major government officials across the province and business leaders of both domestic and foreign enterprises to share their plans for 2023.
"High-quality development is an essential path of development taken by all developed economies including the European Union, the US, Japan as well as the four Asian tigers which include Singapore, Republic of Korea, China's Taiwan and Hong Kong Special Administrative Region," Zheng Yongnian, professor at the Chinese University of Hong Kong, Shenzhen, told GDToday at an exclusive interview during the meeting.
Zheng said high-quality development has been highlighted multiple times in major meetings of Guangdong since December 2022. Now that all the plans are put in place, the government held the conference to ask its officials to put everything into action and achieve all the goals.
"It shows the ambition of Guangdong, China's economic powerhouse, to lead development after China eased travel restrictions on inbound passengers and highlights the areas that the government might formulate more advantageous policies for future development. It presents great opportunities to global investors and job seekers," Zheng said.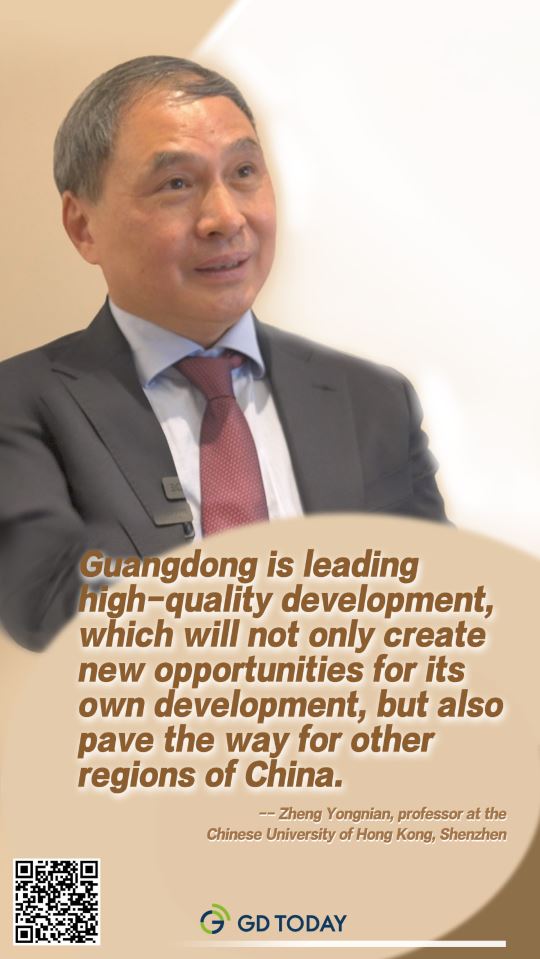 Guangdong sends strong signal to attract high-quality resources worldwide
"Guangdong has been one of the busiest trade centers in China since ancient times and its Pearl River Delta (PRD) has become an international manufacturing hub. However, the province faces challenges to bridge the gap between the PRD and its eastern, western and norther regions," said Zheng.
To facilitate high-quality development, Wang Weizhong, Governor of Guangdong, highlighted key development projects and platforms including Hengqin, Qianhai and Nansha, real economy and manufacturing, ecology of technological innovation, rural area revitalization and green development, and a market-oriented and law-based international business environment which treats both domestic and foreign investors equally.
Zheng analyzed that the emphasis of these areas indicate the province will pursue coordinated development and address the less-developed regions and business sectors. It means more advantageous policies will be formulated while more opportunities will be created in these fields.
In addition, the conference shows Guangdong will further open up to attract high-quality capital, companies and professionals across the globe, according to Zheng.
"Global investors are now keen for good investment destinations with stable social and business environment, as an economic recession in the US and European countries is looming while Europe is now in the mire of war. China is increasing attractive under such circumstances, and Guangdong is always.a premier choice," he said.
"Guangdong stressed a slew of integrated measures in foreign trade, foreign investment, foreign outsourcing, foreign economic cooperation and overseas talent attraction, as well as the creation of an international, market-oriented and law-based business environment at the conference. It's a strong signal to attract high-quality resources overseas," Zheng noted.
"In addition to government officials, the conference involved representatives from state-owned, private and foreign-funded companies and encouraged all the market entities to participate in the new round of high-quality development," he added.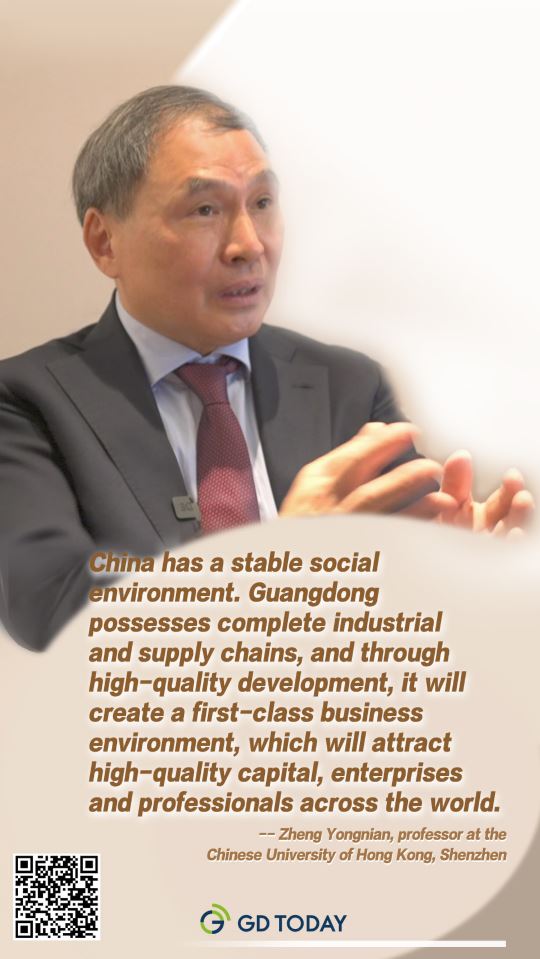 Manufacturing, technological innovation and agriculture highly potential
Zheng considers Guangdong should improve the quality of capital, technology and labor force when it comes to high-quality development. "It is unwise for Guangdong to compete with its global counterparts on cheap land supply, product price and labor cost, based on its situation nowadays," he said.
Zheng highlighted that such fields as manufacturing, trade, high technology and agriculture will be promising for both domestic and foreign investors in this round of development.
As for high technology, Zheng believes the chips bans launched by some Western countries are based on political logic instead of capital logic. "Apart from China, companies in the US, Europe and Republic of Korea are also suffering from the tech war. As long as China continues to provide an open and market-oriented environment, it will continue getting traction in the global market," he said.
Regarding the agricultural sector, Zheng noted although the rural population is decreasing, the added value of agricultural products is increasing. "In the future, the agriculture industry will be in great demand for investment, especially as Guangdong is pushing for rural revitalization," Zheng said.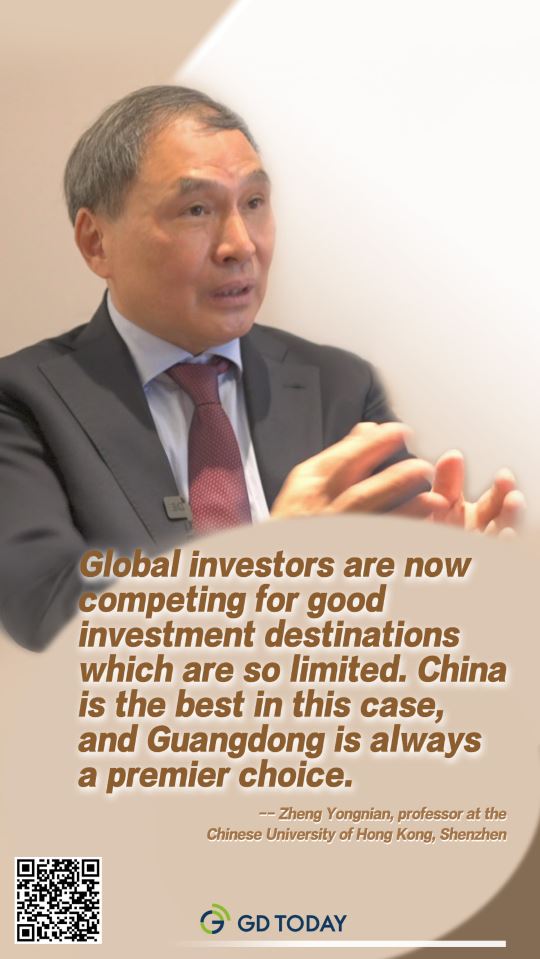 More preferential policies suggested to attract foreign employees
Zheng suggested that Guangdong could take the lead in formulating more policies to attract foreign employees, in a bid to enlarge its talent pool.
He referred the Silicon Valley of the US as an example, where foreign residents account for 60 percent of the local population and around two-thirds of the unicorn companies there are funded by immigrants.
"Guangdong is a window through which the international community observes China because it's always leading in development. Guangdong takes the lead in high-quality development, which will not only create new opportunities for its own development, but also pave the way for other regions of China," said Zheng.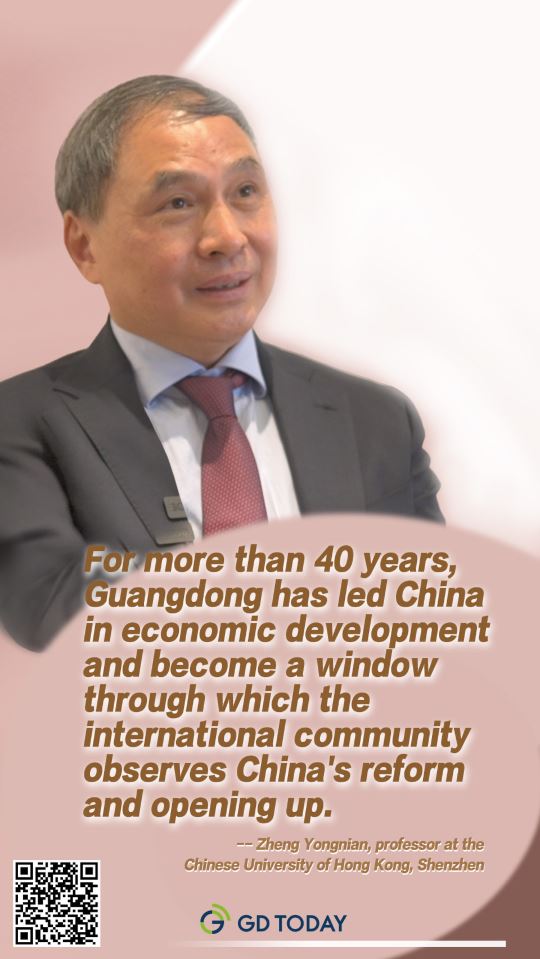 Reporter | Jasmine, Lydia Liu
Editor | Wing, Steven, Jerry