发布时间: 来源: chinadaily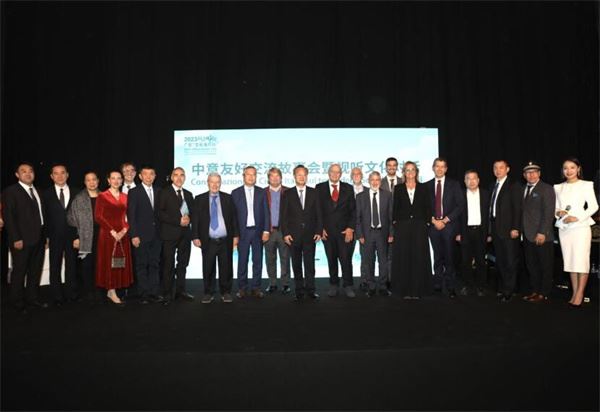 An event featuring conversations of speakers from China and Italy on a wide range of topics was staged in Rome on Thursday,as part of a visit by a Guangdong provincial delegation.[Photo provided to chinadaily.com.cn]
An event featuring conversations of speakers from China and Italy on a wide range of topics was staged in Rome on Thursday.
It was one of many cultural events,including Chinese music concerts and art exhibitions,during the trip of a Guangdong provincial delegation to Italy.
"We take this workshop as a place for experiments.The head office of GAC provides the facilities and support for us to turn concepts into reality,"said Edouard Suzeau,a designer at the European R&D center of GAC Group,a Chinese automobile manufacturer based in Guangzhou,Guangdong province.A car model designed by GAC Milan was presented at the event.
Guangzhou and Rome share similarities in climate and nature,as well as in culinary habits,said Zhao Liping,general manager of Guangzhou Restaurant.Italian cuisine has a prime position in western food and Cantonese cuisine is the most widely spread Chinese food globally,he said,adding his restaurant chain has adopted Italian food ingredients to innovate its menu.
The Chinese and Italian people have a long history of friendly exchanges and mutual support,said Chen Jianwen,head of the Publicity Department of the Guangdong Provincial Committee of the Communist Party of China.
He hoped that more China-Italy friendly stories,which feature harmonious and cooperative relations and common prosperity,would be shared to people on both sides.
China and Italy are mutually important economic and trade partners.Guangdong ranks first among Chinese provinces in terms of exports to Italy and second in terms of imports from Italy,said Li Bin,minister counsellor of the Chinese Embassy in Italy.
He expects more Italian business people to visit China to explore cooperative opportunities.
The conversations also covered bilateral exchanges in trade,air transport and sculpture.